Discover our architectural highlights
Switzerland is not only about chalets! With renowned architects like Le Corbusier, Botta, Herzog, and De Meuron, Switzerland showcases world-class architectural wonders. Explore their urban concepts, admire stunning buildings, and traverse captivating bridges. Immerse yourself in an artistic journey where innovation and engineering intertwine to create a truly unique experience.
Architectural office Brodbeck-Roulet SA
Financed by the Hans Wilsdorf Foundation, owner of Rolex, this bridge made up of 1,400 tonnes of steel resting on concrete piers is made up of an elliptical structure measuring 85 meters and 8.5 meters high. It was built to withstand the currents of an exceptional flood of the Arve.
Geneva
The WMO headquarters in Geneva is an architectural marvel, combining modern design with sustainable features. The building's sleek lines and glass façade reflect its commitment to transparency and openness.  A guided tour offers a unique opportuinity to see it from the inside and the roof-top's view.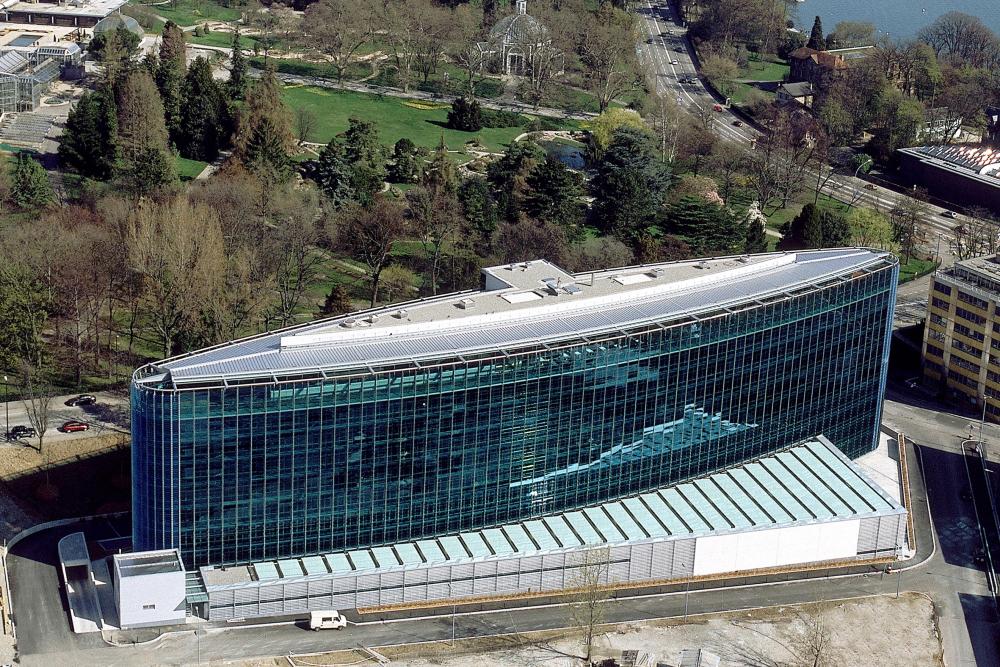 Project : Les Hauts du Château
Geneva – Bellevue complex
Lombard Odier building, architect Herzog et de Meuron
In Bellevue, this is a complex currently under construction (end of the work planned for 2023), where, around a magnificent park, two buildings will cohabit, accommodating 300 dwellings one and a building which will house the future headquarters of the Lombard Odier bank (2,600 workstations) for the other. 
Architect Bernard Tschumi and execution by Fehlmann Architects
Created by Fehlmann Architects, this 900-seat hall can host concerts as well as a wide range of cultural events thanks to its 183 m2 stage. A 227 m2 Blackbox can accommodate more intimate programs thanks to complete flexibility in the adaptation of the room.
EPFL - Rolex Learning Center
SANAA Ltd Japan (Kazuyo Sejima et Ryue Nishizawa) in collaboration with Architram architecture et urbanisme SA
On a continuous surface of 20,000 m2, the building is extremely innovative, with gentle slopes and terraces undulating around interior "patios". Not to mention the almost invisible pillars that support the curved roof, a structure that required new construction methods.
All our services are including:
All our services include the highest accomodations standards from 4 to 5 stars.
Read more